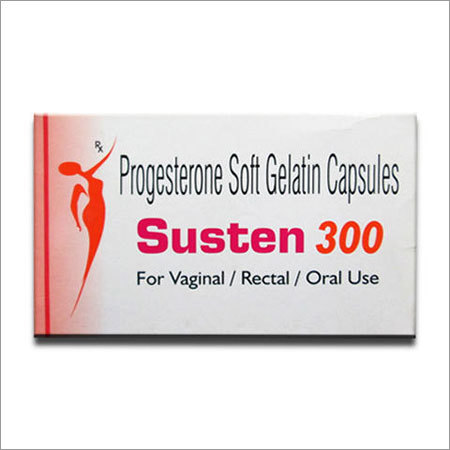 Susten capsules
Product Code : sus
Depend On Quantity USD ($)
Price And Quantity
Minimum Order Quantity

:

1-1000
Unit of Measure

:

Pack/Packs
Price

:

Depend On Quantity USD ($)
Product Specifications
Formulations Type

:

General Drugs
Formulations Form

:

Capsules
Gender/Age Group

:

Women, Adult, Children
Product Description
Susten 200mg Soft Gelatin Capsule is a medication that is used in hormone replacement therapy. This means that it is orally administered into women's bodies when they do not produce enough progesterone. It reduces menopause symptoms and the risk of cancer of the uterus. It corrects menstrual disorders in women and can also be used as contraception. Susten 200mg Soft Gelatin Capsule, belonging to a group of medications called Progestins, works by inducing some changes in endometrium and decreasing the level of estrogen in the uterus.
There are few side effects of using Susten 200mg Soft Gelatin Capsule. Some of them include nausea, diarrhoea, mood swings, abdominal pain, flatulence, rash, itching, sleepiness, vomitting and dizziness. More serious side effects may include chest pain and discomfort, difficulty in passing urine, great lumps, fever and chills, blurred or loss of vision and convolutions.
You should not use Susten 200mg Soft Gelatin Capsule if you are allergic to it, or have a heart, blood vessel, or liver disorder. You should not use it If you have had a miscarriage, experience abnormal vaginal bleeding, are pregnantor have breast cancer. This medicine is not to be given to children. A few other medicines can interact with Susten 200mg Soft Gelatin Capsule like carbamazepine, ketoconazole, insulin, phenobarbital, venetociax and edoxaban. Therefore, it is advisable to inform your doctor if you take any other medications.
Doctors recommend to take this medicine at bedtime with sufficient amount of water for as long as prescribed.



Generic Gestanin

Indian Brand

Susten 100 , 200, 300mg ,

Generic Formula

Progestogen

Manufacturer

Sun Pharma

Tab/Cap

Cap

Packing

10
Contact Us
102, Sukumar Building, 1st Floor, Opp. Bombay Bazaar, J. P. Road, above kalinga jewellers, Mumbai, Maharashtra, 400058, India
Phone :91-22-26774729