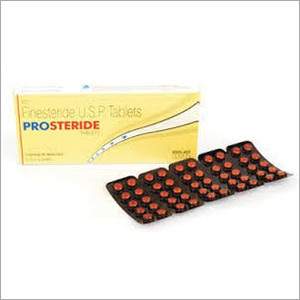 Propecia / Proscar Tablet
Product Code : pro
Depend On Quantity USD ($)
Price And Quantity
Minimum Order Quantity

:

1-1000
Unit of Measure

:

Pack/Packs
Price

:

Depend On Quantity USD ($)
Product Specifications
Formulations Type

:

General Drugs
Formulations Form

:

Tablets
Gender/Age Group

:

Women, Adult, Children
Product Description
Propecia / Proscar Tablet
The Basics
What is finasteride?
Finasteride 1 mg (generic for Propecia) is a medication approved by the FDA to treat male pattern hair loss, also known as androgenic alopecia. Finasteride is also used in a 5 mg dose (generic for Proscar) to treat symptoms of Benign Prostatic Hyperplasia (BPH), or an enlarged prostate.
Finasteride works on both the prostate and scalp because it is in those two areas (and a few others) that finasteride blocks the the enzyme that converts testosterone into DHT. It does not affect a very similar enzyme that converts testosterone to DHT in other areas of the body. This makes it selective and less likely to cause unwanted side effects. Notice, we said less likely; every drug can cause side effects and it is important to understand that when looking into any treatment plan.
Finasteride is one of two FDA approved treatments to manage male pattern hair loss. The other FDA approved medication is topical minoxidil. It comes as a foam or a solution. The exact mechanism of how minoxidil stops hair loss is unknown. However, these two medications work better than either one alone.
How it works
Finasteride works by blocking an enzyme that converts testosterone to dihydrotestosterone (DHT). DHT is the hormone responsible for hair loss in men who are genetically predisposed to lose their hair. By blocking the conversion of testosterone to DHT, finasteride can prevent further hair loss, and may even regrow hair.
It does work well for most men in terms of stopping hair loss. In one European study, men treated with 1 mg finasteride over a five year period "led to a 93% decrease relative to placebo in the 5-year likelihood of developing further hair loss."
It regrows hair less well but does provide a benefit for some men. In another study, the authors found that "the chances of mild to moderate visible regrowth are 61% on the vertex (the top of the head) (with an additional 5% achieving great visible regrowth) after 2 years and 37% on the frontal area after 1 year."
When deciding on finasteride, it is best to consider slowing and stopping hair loss as your goal with regrowth a bonus if it occurs.
Some Basics:
It is best to take it each day at the same time. If a dose is missed, the missed dose should be skipped and the regimen continued the next day. Of course, if off by just a few hours, the medication should be taken and the usual daily pattern resumed. It is important to take finasteride without days of interruption, so planning to carry enough when traveling, on vacation, etc., is vital. Finasteride can be taken with or without food.
The pills should be kept dry and at room temperature between 68˚F to 77˚F (20˚C to 25˚C). The bathroom is a moist environment, so choose another place. They must be stored away from children and pets. Also, broken pills can expose the skin to finasteride. This is category X, meaning that it can cause birth defects. Though they are coated and generally considered safe when unbroken, women should never touch these pills.
Frequently asked questions
How long does finasteride take to regrow hair?
What are the side effects?
What is Different About Male Pattern Baldness?
How does Finasteride work?
Will finasteride stop hair loss?
Side effects
Finasteride works for the vast majority of patients and it usually does so without causing side effects. However, no drug is 100% safe. The majority of men take Finasteride without difficulty but familiarity with the possible side effects will help you identify if you are one of the men who experience them.
Sexual side effects
Sexual side effects can include a decrease in sexual desire (libido), a decrease in semen volume, or erectile dysfunction (ED). These side effects were noted in 3.8% of men taking finasteride and in 2.1% of men taking a placebo ("sugar pill"). Breaking it down by each side effect, a decreased libido occurred in 1.8% of men (1.3% who took placebo), erectile dysfunction in 1.3% (.7% on placebo), and decreased semen volume in .8% (.4% who took placebo). A very small number of men experience other ejaculation disorders.
The PDR states, "Resolution occurred in men who discontinued therapy with finasteride tablets due to these side effects and in most of those who continued therapy. The incidence of each of the above adverse experiences decreased to < 0.3% by the fifth year of treatment with finasteride tablets." This all sounds easy and straightforward—the sexual side effects are transient and manageable—but that is not the point. The point is that these side effects can happen. If you are one of the people who notices a change, the statistics about side effects occurring for a small number of patients won't matter. Whether to continue the medication or not is an intensely personal choice. That is why it is so important to think about what it would mean if you were one of those few men who has an issue. A tiny decrease in semen volume may be trivial, but erectile dysfunction may not be, even if it goes away with time. Lastly, there is the possibility a side effect can persist after the drug is stopped. It is rare, but possible. And again, "rare" is meaningless if it happens to you. The studies quoted had very few men discontinue medication due to "drug-related sexual adverse experiences," which was only 1.2% of men compared to .9% of men who took the sugar pill.
Prostate cancer, urinary tract obstruction
Finasteride reduces total serum prostate specific antigen (PSA). In a typical patient undergoing treatment for BPH with finasteride (>= 6 months), a 50% decrease in serum PSA concentrations can be expected; however, individual patients may experience varying decreases in PSA values. During treatment, serum PSA concentrations may decrease even in the presence of prostate cancer. If clinicians use serum PSA concentrations as an aid in the detection of prostate cancer in men receiving finasteride, values should be doubled for comparison with normal ranges in untreated men. Any increase from baseline, even if the value is within the normal range for untreated men, may signal the presence of prostate cancer.
There is also an increased incidence of high-grade prostate cancer in patients receiving finasteride or dutasteride treatment. Results from the PCPT trial showed that men receiving finasteride had a 26% decreased risk of being diagnosed with prostate cancer when compared to placebo (p < 0.0001); however, the risk reduction was limited to Gleason score (GS) <= 6 cancers. There was an increased incidence of GS 8—10 prostate cancers with finasteride compared to placebo (1.8% vs. 1.1%, respectively). Therefore, in initiating or continuing treatment with finasteride, clinicians should weigh the known benefits of treatment against the potential risk and be aware that finasteride may increase the risk of high-grade prostate cancer. Further, lower urinary tract symptoms of BPH can be indicative of other urological diseases, including prostate cancer. Patients should be assessed to rule out other urological diseases prior to treatment with finasteride.
Infertility
The clinical significance of finasteride's effect on semen characteristics for an individual male patient's fertility is not known; consider the potential effects on semen when assessing a male with infertility. Finasteride may cause spermatogenesis inhibition or oligospermia, decreased sperm motility, or decreased semen volume. One study showed a significant decrease in sperm count at 26 weeks, but not at 52 weeks. Semen volume and sperm concentration were also decreased, but this was not statistically significant. Sperm motility was decreased and it did reach statistical significance. During post marketing surveillance, male infertility and/or poor seminal quality following treatment discontinuation have been reported. It should be noted that normalization or improvement of seminal quality has also been reported after discontinuation of finasteride.
There are other side effects and they can reviewed here.
Are there any special groups?
Yes.Among the most significant are children and women.
Children: Finasteride cannot be used in children.
Women: Finasteride was termed Category X for a reason. It can lead to birth defects. Finasteride cannot be used in pregnant, possibly pregnant, or nursing women and should not be used in women at all. If a woman who is pregnant, is breastfeeding, or could possibly be pregnant, touches a tablet, she must wash her hands immediately with soap and water and contact her physician.
Liver Disease
Finasteride should be initiated with caution in patients with liver disease. Since finasteride is metabolized extensively in the liver, reduced metabolism is possible. The effect of liver impairment on finasteride pharmacokinetics has not been studied.
Geriatric
Clinical efficacy studies of finasteride for hair loss did not include subjects aged 65 and over. Based on the pharmacokinetics of finasteride 5 mg, no dosage adjustment is necessary in the geriatric patient. However, the efficacy of finasteride for hair loss in the elderly has not been established.
Blood donation
Men treated with finasteride should refrain from blood donation while taking finasteride. The purpose of this is to prevent administration of finasteride to a pregnant female transfusion recipient.
See here for other special groups, warnings, and precautions
Is it possible to overdose on finasteride?
In clinical studies, single doses of finasteride up to 400x the dose given for hair loss and multiple doses of finasteride up to 80 g/day given for three months did not result in adverse reactions. At the moment, the PDR does not recommend any specific treatment for an overdose, though extremely high doses can kill rats. Every overdose should be reported to your doctor.
Drug Interactions
The PDR states, "No drug interactions of clinical importance have been identified." Compounds that have been tested include antipyrine, digoxin, propranolol, theophylline, and warfarin and no clinically meaningful interactions were found.
Also, finasteride (1 mg or more), was used in studies with "acetaminophen, acetylsalicylic acid, α-blockers, analgesics, angiotensin-converting enzyme (ACE) inhibitors, anticonvulsants, benzodiazepines, beta blockers, calcium-channel blockers, cardiac nitrates, diuretics, H2 antagonists, HMG-CoA reductase inhibitors, prostaglandin synthetase inhibitors (also referred to as NSAIDs), and quinolone anti-infectives without evidence of clinically significant adverse interactions."
Generic Propecia Tablet

Indian brand

Prosteride

Generic Formula

Finesteride

Manufacturer

Hab

Tab/Cap

Tab

Packing

10
Contact Us
102, Sukumar Building, 1st Floor, Opp. Bombay Bazaar, J. P. Road, above kalinga jewellers, Mumbai, Maharashtra, 400058, India
Phone :91-22-26774729