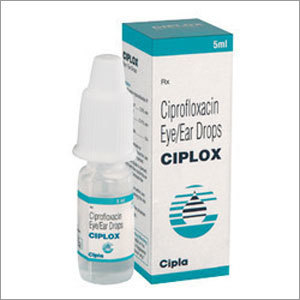 Ciloxan Eye Drop
Product Code : cip
Depend On Quantity USD ($)
Price And Quantity
Minimum Order Quantity

:

1-1000
Unit of Measure

:

Pack/Packs
Price

:

Depend On Quantity USD ($)
Product Specifications
Gender/Age Group

:

Women, Adult, Children
Product Description
Ciplox Eye Drop
y health professionals
1. Name of the medicinal product
CILOXAN 0.3% w/v eye drops, solution
2. Qualitative and quantitative composition
Ciprofloxacin 0.3% w/v (as hydrochloride).
Excipients with known effect: One ml of solution contains 0.06mg of benzalkonium chloride.
For a full list of excipients, see Section 6.1.
3. Pharmaceutical form
Eye drops, solution.
A clear and colourless to pale yellow solution.
4. Clinical particulars
4.1 Therapeutic indications
Adults, newborn infants (0-27 days), infants and toddlers (28 days to 23 months), children (2-11 years) and adolescents (12-16 years).
CILOXAN is indicated for the treatment of corneal ulcers and superficial infections of the eye and adnexa caused by susceptible strains of bacteria.
Consideration should be given to official guidance on the appropriate use of antibacterial agents.
4.2 Posology and method of administration
Adults, newborn infants (0-27 days), infants and toddlers (28 days to 23 months), children (2-11 years) and adolescents (12-16 years).
Corneal Ulcers:
CILOXAN must be administered in the following intervals, even during night time:
On the first day, instil 2 drops into the affected eye every 15 minutes for the first six hours and then 2 drops into the affected eye every 30 minutes for the remainder of the day.
On the second day, instil 2 drops in the affected eye hourly.
On the third through the fourteenth day, place two drops in the affected eye every 4 hours. If the patient needs to be treated longer than 14 days, the dosing regimen is at the discretion of the attending physician.
Superficial Ocular Infection:
The usual dose is one or two drops in the affected eye(s) four times a day. In severe infections, the dosage for the first two days may be one or two drops every two hours during waking hours.
For either indication a maximum duration of therapy of 21 days is recommended.
The dosage in children above the age of 1 year is the same as for adults.
Use in children
Safety and effectiveness of CILOXAN Eye Drops were determined in 230 children between the ages of 0 and 12 years of age. No serious adverse drug reaction was reported in this group of patients.
Use in renal and hepatic impairment
No studies have been performed using CILOXAN Eye Drops in patients with kidney or liver problems.
4.3 Contraindications
• Hypersensitivity to the active substance or to any of the excipients listed in Section 6.1.
• Hypersensitivity to quinolones.
4.4 Special warnings and precautions for use
After cap is removed, if tamper evident snap collar is loose, remove before using product.
For ocular use only.
The clinical experience in children less than one year old, particularly in neonates is very limited. The use of CILOXAN eye drops in neonates with ophthalmia neonatorum of gonococcal or chalamydial origin is not recommended as it has not been evaluated in such patients. Neonates with ophthalmia neonatorum should receive appropriate treatment for their condition.
When using CILOXAN eye drops one should take into account the risk of rhinopharyngeal passage which can contribute to the occurrence and the diffusion of bacterial resistance.
Serious and occasionally fatal hypersensitivity (anaphylactic) reactions, some following the first dose, were observed in patients receiving treatment based on systematically administered quinolones. Some reactions were accompanied by cardiovascular collapse, loss of consciousness, tingling, pharyngeal or facial oedema, dyspnoea, urticaria and itching. Only a few patients had a history of hypersensitivity reactions (see section 4.8).
Serious acute hypersensitivity reactions to ciprofloxacin may require immediate emergency treatment. Oxygen and airway management should be administered where clinically indicated.
CILOXAN should be discontinued at the first appearance of skin rash or any other sign of hypersensitivity.
As with all antibacterial preparations prolonged use may lead to overgrowth of non-susceptible bacterial strains or fungi. If superinfection occurs, appropriate therapy should be initiated.
Tendon inflammation and rupture may occur with systemic fluoroquinolone therapy including ciprofloxacin, particularly in elderly patients and those treated concurrently with corticosteroids. Therefore, treatment with CILOXAN Eye Drops should be discontinued at the first sign of tendon inflammation (see section 4.8).
In patients with corneal ulcer and frequent administration of CILOXAN Eye Drops, white topical ocular precipitates (medication residue) have been observed which resolved after continued application of CILOXAN Eye Drops. The precipitate does not preclude the continued application of CILOXAN Eye Drops nor does it adversely affect the clinical course of the recovery process. The onset of the precipitate was within 24 hours to 7 days after starting therapy. Resolution of the precipitate varied from immediately to 13 days after therapy commencing.
Contact lens wear is not recommended during treatment of an ocular infection. Therefore, patients should be advised not to wear contact lenses during treatment with CILOXAN eye drops.
CILOXAN Eye Drops contains benzalkonium chloride which may cause irritation and is known to discolour soft contact lenses.
Avoid contact with soft contact lenses. In case patients are allowed to wear contact lenses they should be instructed to remove them prior to application of CILOXAN Eye Drops and wait at least 15 minutes before reinsertion.
Generic Ciloxan Eye Drop

Indian brand

Ciplox Eye Drop

Generic Formula

Manufacturer

Cipla

Tab/Cap

Drop

Packing

5ml
Contact Us
102, Sukumar Building, 1st Floor, Opp. Bombay Bazaar, J. P. Road, above kalinga jewellers, Mumbai, Maharashtra, 400058, India
Phone :91-22-26774729